Yeah...that's a German thing. It is a liquor made from raw egg yolk, lots of sugar and whipped unsweetened cream. Throw in some evaporated milk and some Everclear and you have yourself a German Christmas tradition.
My daughter helped me find my Mom's recipe, so I made it yesterday. Yum!
I rewarded myself with a small shot glass this afternoon for finishing and casting off the three shawls at a time.
Here is a pic.:
All unblocked of course. The space I usually use is currently occupied by a Christmas Tree, so I have to block them one at a time.
They were really a fun knit and so quick, too. I will definitely make more of these. Here is also a photo of the first one blocking: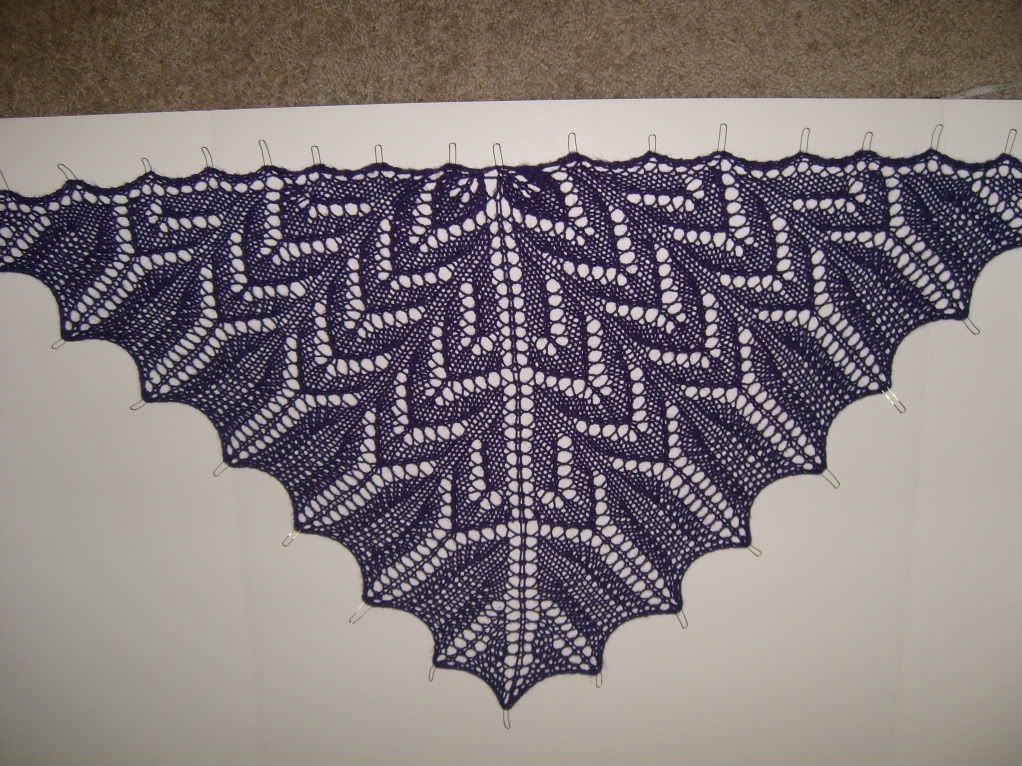 I just don't understand why these photos never end up where I would like them in the text. And I dislike it very much when I have to ask my 13-year-old how to do something on the computer.
So I rewarded myself with another little glass after washing the first shawl, and another little one after I got done putting it on the blocking board. :)
My basket with unfinished knitting projects is looking strangely empty now. But I have promised myself not to cast anything new on until the First of the New Year.
I will probably change that, if I get myself another little glass of....well, you know, lol.
Yesterday I saw Nitecrew again, with a different singer (the front girl of the band 4More, don't know her name...). She is pretty amazing.
I wish all of you Happy Holidays (whatever you celebrate) and a Happy New Year. May all your resolutions hold stead fast and be successful.
Thanks for following my antics through the year 2010. See you next year.