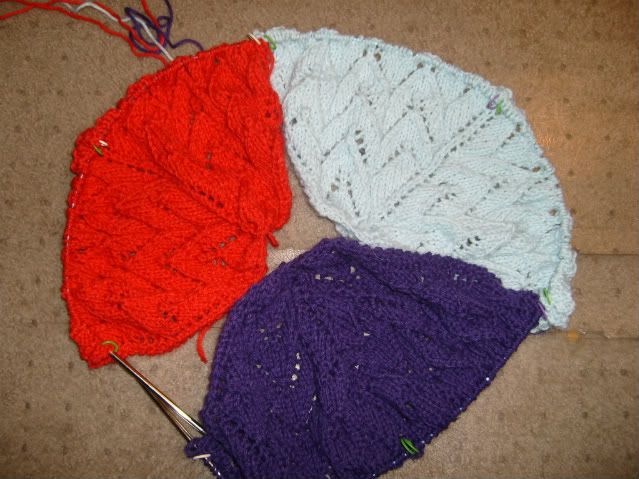 First some updates on the knitting. Socks for EX are hibernating. Might finish them for Son-in-law. Here is a pic of the three shawls I'm knitting at the same time. I have two repeats finished and have only the border left. Then I have three gifts for ......hmm....whoever pops up that I forgot, I guess.
They are turning out really pretty. I might make more in the future. Maybe four at a time???
The test knit completed for Ravelry's free test knitters has turned out really nice too. I was supposed to knit three repeats of a baby blanket named "Estonian Princess". Designed by
http://www.ravelry.com/designers/sami-kaplan
FabuKnits. It is really easy. Her patterns are written so perfectly! You can't go wrong. Let's see if I can insert another picture: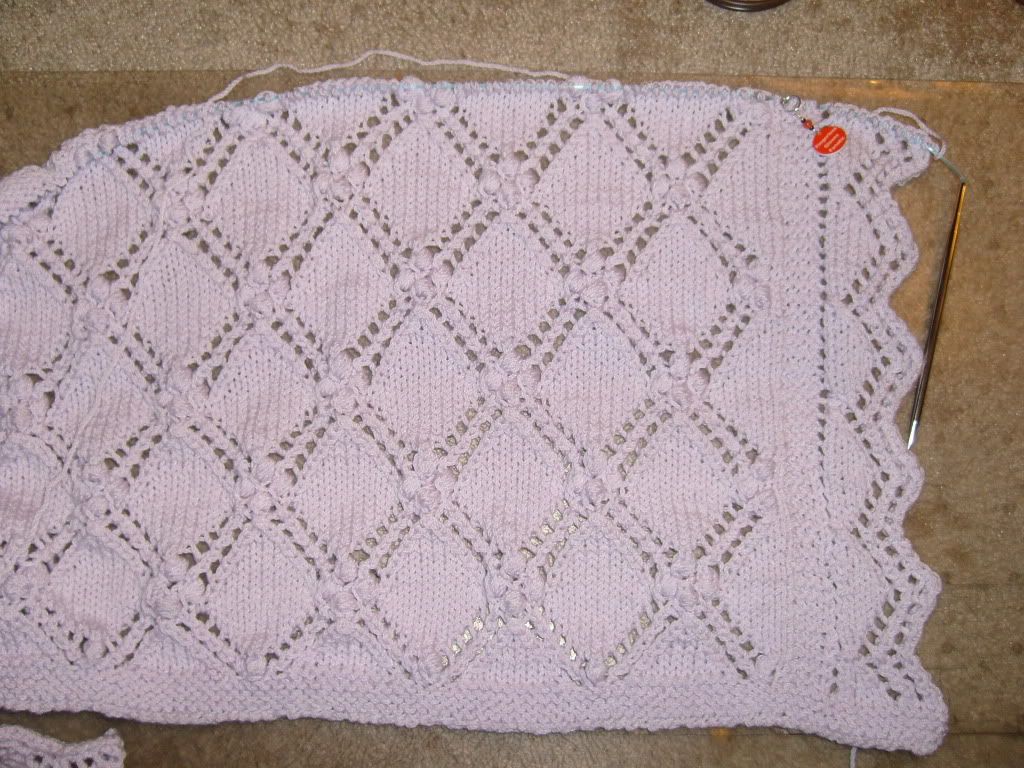 I can't believe that actually worked!!! LOL. Usually I have the hardest time adding more than one pic. Hence all the fancy four-split pics.
Anyways......
Now we get to the kicker. I am really going insane. I have requested a proposal package from a well known publisher, because I would like to write a book.
Okay...okay...stop it. You can quit the giggling and snickering at any time now....
I really think I could pull this off, though. Lots of work to be done. I had no idea a proposal is so much work. All the info they need. So I bought a book on how to get your book published. Very good advice and I never thought of it this way: If a publisher spends oodles of money to get your book published, you better make it worth his time. So I'm working on that one. If it all falls into place, 2011 is gonna be MY year. Yes!!!
My friend Jean is trying to set me up with her brother. All the stuff she has told me about him is just awesome, but then again...maybe she's trying to sell him, lol. I will meet him Friday at Starbucks.
Tomorrow I go with Nici and her friends to the Great American Casino again to see NiteCrew. Cool cover band and the keyboard player is cute!
Maggie has two weeks of winter break now and is just devastated, that she will be separated from her best friend for THAT long. Aaaahh, teenagers. I remember it well.
I just volunteered (yes, you read that right) to help Nici with her Christmas knitting list. Damn! I should really lay off the mulled wine.