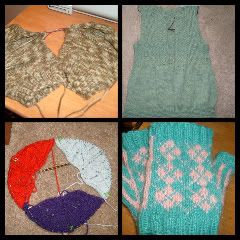 Let's see....Progress in bullets:
♥
Knitting a "sekrit" test knit, Socks,,,that's all I can tell ya. Like I needed another test knit.
♥
The hooded jacket I am knitting for my friend Judy is coming along nicely. Body finished..sleeves cast on.
Maybe it will let me post a pic? Of course not.
♥
I am also knitting a pair of socks for my sweetie. That man needs to know how hand knit socks feel. And the myth goes: once you start knitting for your man...within 12 month man and
knitted item will be gone. We shall see.
♥ I am knitting the
http://www.ravelry.com/patterns/library/198-yds-of-heaven
shawl for Linda. Cindy and Marissa. My friends Mom, sister and niece. In purple, red and baby blue. I know myself. After the first one I would have been bored to tears and the other ones would have never been knitted. So I am knitting all three at the same time. So far it is going well.
♥
I also finished the test knit for the Argyle gloves...which was giving me a major headache. They turned out nice, though.
I don't know why I can't put pics where I want them to be......*sighs* Oh well.
Sold two skeins of yarn today and ordered more undyed yarn, so I can put some fall and winter colors in the etsy store.
Very happy at the moment (kinda waiting for that proverbial "other boot" to drop, because let's face it: this is my life we are talking about. And things just don't work like that in my universe.).