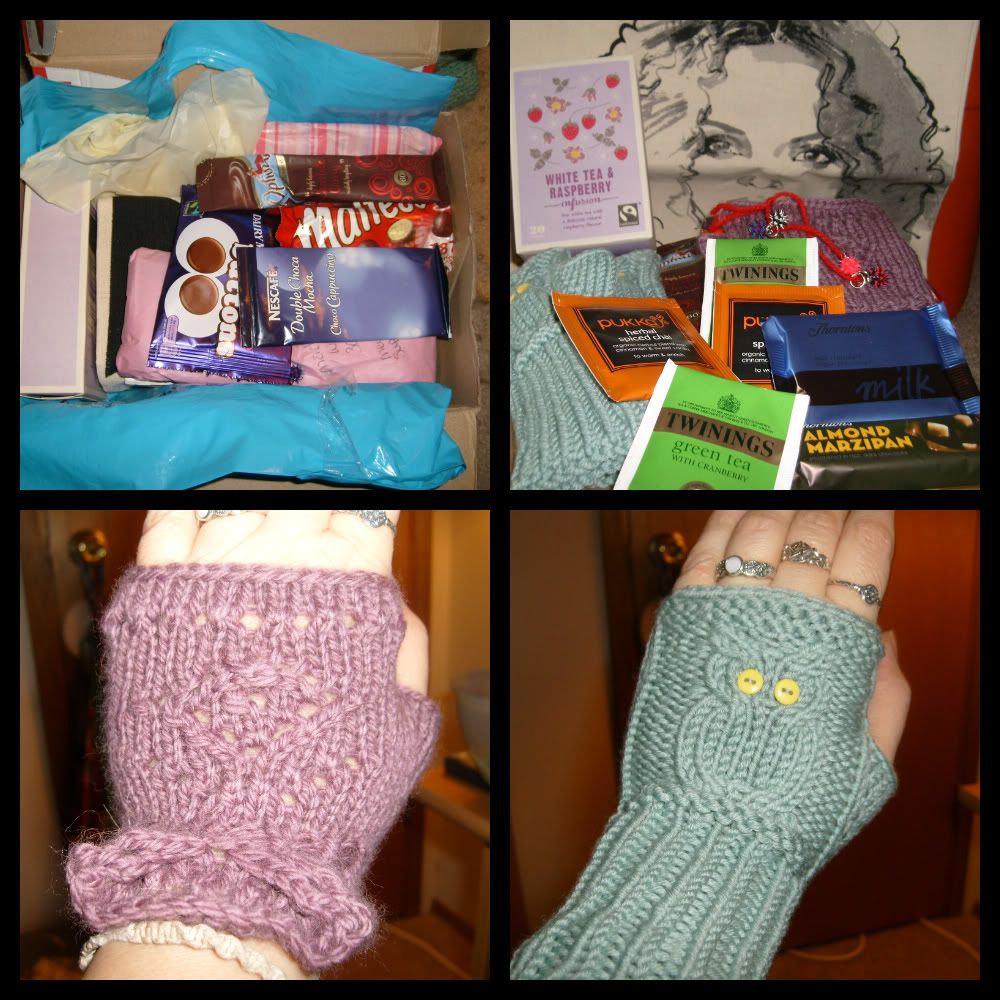 Swap partners gloves are done, washed and blocking. Box will be taped up tomorrow and ready to go. I got a lovely package from my swap partner in England with loads of candy....I'm telling you, the chocolate alone would be reason to move overseas.
I will post pictures of my finished gloves next time, but here are some pics of the package I got.
Aren't those owl gloves cute?
I made up the boyfriends mind after a rather unpleasant phone call. He literally said that he didn't know what he wanted right now. Well, I do. So I am single yet again...(why do I keep hearing that song "all by myself" in my head?).
Giving e-harmony a try and so far it is amusing to no end. I had a guy who wrote everything in capitals. So he's basically yelling at me the whole time, lol.
Most of the guys they "match" me with write in the section " Things I'm passionate about" that they are passionate about life. Hmmm...what exactly does that mean?
I mean.....I'm just passing through here and since I
am
here I might as well make the best of it, right?
Another guy wrote under "occupation" that he is an attorney, but for his name he put the letter K and every third word was misspelled. Riiiiight. Attorney. Sure. On what planet?
A new design is in the works, this time I am working on socks!!!
I am finished with Judy's jacket and it is gorgeous. I ran out of yarn when I was binding off, so I still ahve about 20 live stitches. But it is to be turned under and sewn in place, so I will just sew down the live stitches Kitchener style.
I"m also almost finished with a test knit of a T-shirt. It is really cute, but the instructions for the cap sleeves were very confusing. So I tried to figure it out a couple of times and now I am waiting for the designer to get back to me. I just couldn't work it out.
I have patterns submitted to KnitPicks and a calendar. So I hope to hear back from them soonish.
Well, that's it for today.