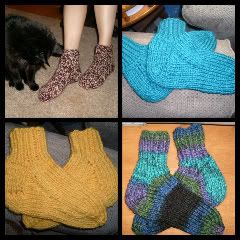 What can I say....I test knitted this pattern for a lady on Ravelry and I swear, she put something in the pattern that makes them addictive.
I helped Nici out and knitted a pair for her Mother in law, then my youngest requested some "sunshiny" ones. Enter Michael's Yarn Sale and a 25% off-your-entire-purchase-coupon and you get socks, socks and more socks.
You can find the pattern here:
http://www.ravelry.com/patterns/library/two-movie-slipper-socks
So far I made 4 pairs and pair number 5 is on the needles. It doesn't help that the Charisma Yarn form Loops & Threads comes in absolutely lovely, luscious, gorgeous, scrumptious colors. Easy knit, fast and like I said: addicting.
Give them a try. I bet you can't resist them either. And they make great, inexpensive gifts.
As soon as I figure out what she sprinkled into the pattern, I'll let you know.