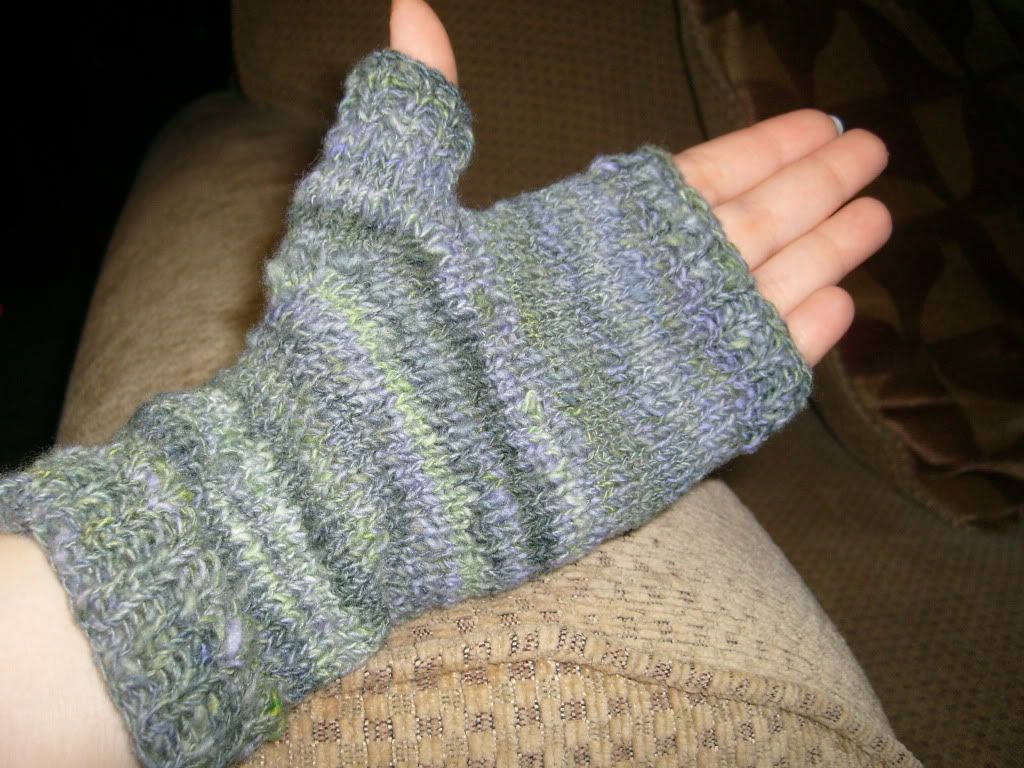 My darling daughter hand spun some yarn. I got her the roving last year from etsy and she made this wonderful yarn out of it. I am even more tickled that I got the first batch! I knitted some fingerless gloves from it (of course, what else?) and thought plain stockinette stitch would show off the yarn best. The photo doesn't really do it justice. Once the weather clears up around here ( about June, I think ) I shall take gorgeous pics of a gorgeous glove. Until then:
I started on the second pair of my 11 pairs in 2011 Knit along. Wonderful lace weight gloves. I kept complaining the whole time that they were too big. Went down a needle size ( now I am knitting with 00; I feel like James Bond) and they are still kinda loose. It would have made for a lot less complaining if SOMEONE would have mentioned that they are knitted from hand to cuff! Sheesh! Now it all makes a lot more sense.
The book proposal is still in the works. Some patterns are currently being test knitted. Secretly of course. In an undisclosed location.
I am hoping that I will get everything sorted by the end of January.
Got off early again from work today. Instead of doing something productive I decided the kitchen needed cleaning. Yay procrastination!
Darling daughter is going out tomorrow and has her younger sister helping her to find the perfect outfit. I'm not sure if I should laugh or worry about this.......