I forgot all about the Skacel ware house tour! I wanted to tell you about it! Well...it was awesome! Those guys were so nice. We had a blast. Just imagine: 10 foot shelves lined from top to bottom with yarn. Lots of yarn. All those colors and textures. And of course all the addi needles. We were not allowed in that room. A very nice sales person helped us out there; sorry to say I forgot her name. We would have made a mess out of her organized room, I'm sure. A lot of our knitters showed up and took advantage of the special discount.
About $400 dollars later I was on my way home.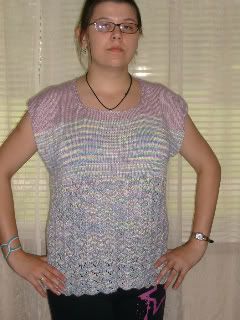 I finally finished the little tank top ( or T-shirt) I was working on for the store to display.....here's a pic of my oldest modeling it. It's a little large on her; it's made of sugar cane yarn and very soft, shiny and drapes really nice.
I just realized that I did mention the warehouse tour in my last post. Just not with that much detail. Maybe I should start reading my own blog, lol.