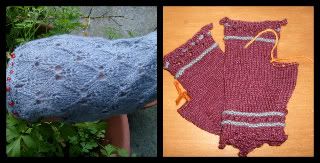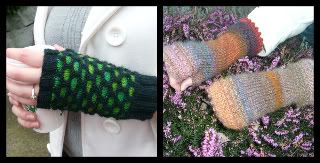 Here's the deal: yarn label says 5 st = 1 in. Swatch (yes, I went there!) confirms. Wrist circumference is 5 in. so in all logic 25 st should equal 5 in. And yet it cuts off circulation to my hand. ??? So I cast on 36 st, since I need a number divisible by 6. Now it literally falls off my hand.
sighs
.
On a lighter note: I have blocked the lacy gloves more lengthwise than wide and they turned out beautifully. I have therefore finished pair 3 and 4 for the 11 in 2011 challenge. Pair 4 was a two-color project that looks awesome. Even my 13-year old requested a pair. I also made a pair of "Susie's Reading Mitts". Love the yarn, but will gift the gloves, because they are too long in the cuff for my taste.
The purple (or bordeaux) ones are a Mystery Knit along I am part of. FUN! Last clue is due tomorrow.
I have the most lovely test knitter helping me out with the secret test knits for the book. Her name is Eliana and her input is very valuable and I really like her suggestions. Just a few more details to take care of, before I can submit the proposal. Keep your fingers crossed.